Very few people in the world can say they don't own a single t-shirt. It is one of those core items that is worn by men and women alike and serves as a blank canvas both for the wearer and the designer. As wearers, we love them for their versatility, comfort, and (usually) low price point. Put yourself in the shoes (or the t-shirt) of your customer for a second: there is nothing like your favorite t-shirt, that makes you feel comfortable and secure, particularly on those days when just picking an outfit feels daunting. Ideally, you'd want to be the creator of "that perfect" tee that people keep coming back to.
Indeed, as a fashion designer and creative, you love t-shirts because they are simple to design, easy when it comes to creating a pre-production sample, less complicated to produce and they can be quite profitable. Those brands and designers who are especially able to craft an easy to care for, comfortable, quality t-shirt can be certain they will have customers coming for them time after time.
T-shirts can be the single best advertisement for your label if you manage to brand them in a cool, clever way. Just look at how many high-end brands have used them as an affordably priced entry point to their brands.
And with the graphic t-shirt trend in full bloom, there has never been a better time to create one of those garments that can become conversation starters — "Cool t-shirt! Where did you get it?"
So, how to go about manufacturing the perfect quality tee? Make sure you have all 4 items on this checklist to keep the fans of your brand lining up!
---
Technical sketches
Fashion flats are basically the first thing your manufacturer will see before sewing your garment. They should reflect all of your design details like desired fit, finishings, and stitching.
Technical fashion sketches are usually created in Adobe Illustrator. However, you don't always have to create flat sketches from scratch. With a vector editor like Repsketch, you can select from a variety of templates created by professional technical designers. Simply select your template, change design details according to your liking, share online or download and add to your tech pack.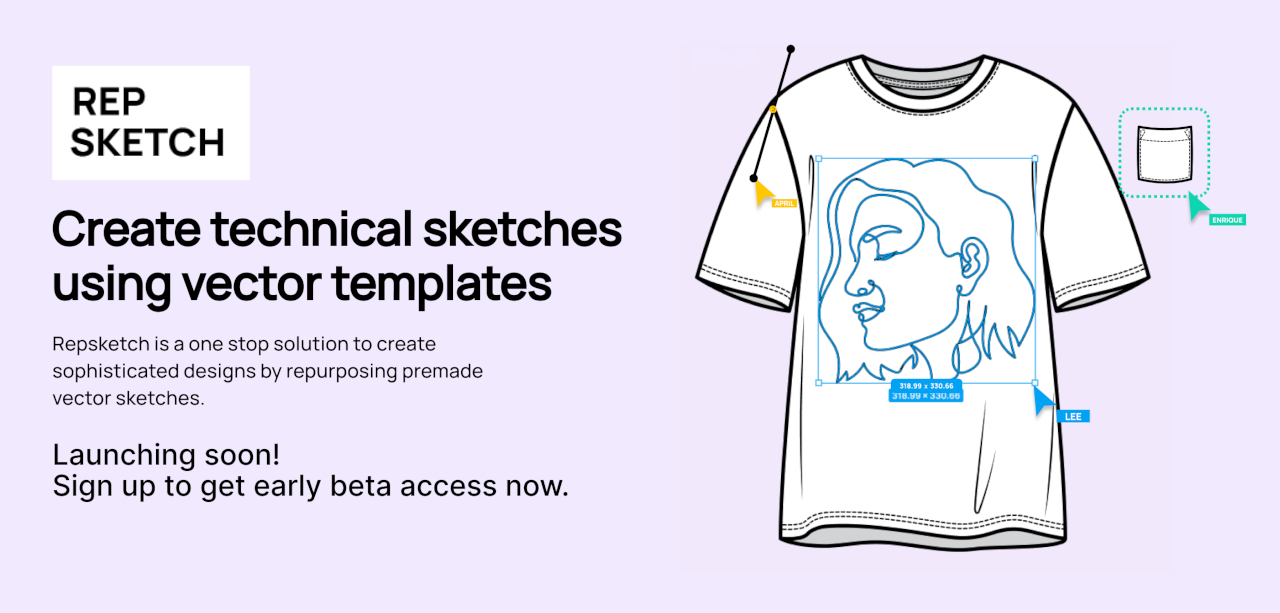 ---
Fabric choice
A quality t-shirt must be aesthetically pleasing as well as practical. This mostly depends on the type of fabric used. Cotton is considered one of the best fabrics for T-shirt manufacturing since it is soft and breathable. Synthetic fibers, on the other hand, are smooth and have low water absorbency, but may not be comfortable for everyday wear. Consider the function of your T-shirt, and choose your fabric accordingly.
Fabric colors issues
Usually, it's assumed that a one-color t-shirt will be manufactured entirely in the same tone. However, even when the pieces may come from the same roll of fabric, it is difficult to guarantee that all its parts will come in an identical hue.
This is why sometimes the color of the sleeves can vary slightly from the color of the fabric of the main body. In the case of details like ribbing, color control can be even more difficult, so pay close attention as this can greatly impact the appeal of your product.
---
Construction quality
Monitoring construction quality is a complex task. It involves many aspects like getting the positioning of the seams right, avoiding stitching flaws, eliminating waving and puckering issues, correct pressing of the garment and nailing the finished edges.
Positioning of the seams
The positioning of the seams is crucial for appearance and fit. For instance, when you try on a t-shirt, the shoulder and side seams should not drop or move forward. In addition, the seam should be examined to ensure they are straight.
When seam shifting occurs, it is not only unappealing but uncomfortable for the wearer. It's particularly notable in fitted tee styles. This calls for a pattern modification using skilled sewers who can help identify and correct these issues.
Stitching flaws
The skipped stitches problem happens often with jersey fabric which is commonly used in T-shirt production. The elastic knit acts like a trampoline, caving in to allow needle piercing through to a certain extent, instead of direct passage. This characteristic of elastic knit leads to failure of stitch formations, so the unhooked threads float on top of the fabric. Other defects such as non-aligned underarm seam and side seam, and incorrect stitch per inch (SPI) can lead to significant quality issues, not to mention an aesthetically displeasing appearance.
Waving
We only want to see waves at the beach, not on our tee. The fabric and ribbing of a quality t-shirt should be smooth when worn or placed on a flat surface. That unflattering wavy appearance signals that over-stretching has occurred during the sewing process. When examining the knits closely they will show several tiny crosswise loops. An excess force will pull the loops and widen the materials, which could occur due to machinery or operation errors.
Puckering
The fabric around the seams of the t-shirt should be smooth and not gather unexpectedly. 'Puckering' happens when too much stitch tension is applied which pushes the fabric inward. Aside from the undesirable appearance, the problem is analogous to a tightly held elastic band, the stitches will break easily with everyday wear.
Finished edges
Frayed edges after the first wash is a major indicator of a poorly made t-shirt. So don't let this happen and ensure that all raw edges are fully covered and the seams are overlocked.
A well-made item will have a neat, even, and clear finish on the insides as well. Ideally, you should be able to turn a t-shirt inside out and barely notice a difference from the right side.
Pressing
There are many ways to avoid the most common production errors. In the meantime, some can be temporarily solved by pressing. For example, uneven shoulder lengths, inaccurate size measurements, and distorted fabric can be handled via steam and pressure, particularly for stretch jerseys. In order to identify any problems in the t-shirt when pressing is used, watch out for possible loop deformations, which could call for further inspection in the sample.
---
Measurements
To produce an accurate sample the manufacture will need to receive the Measurement Specs from the designer. The Measurement Spec Sheet includes the approximate measurements of the garment when laid flat.
Accurate measurements specs
An essential quality control check is ensuring that all measurements match the specifications outlined on the tech pack. The tech pack should include error allowances (tolerances) that allow for measurements to fall within a certain range. When the samples are received, ensure that all measurements fall within this acceptable range.
Ensuring efficient sampling
As simple as a t-shirt may sound, an inspection of it is far more complicated than imagined. A simple way to avoid the errors highlighted above is by using a precise tech pack. In case you missed it we have a complete guide for that.
With exact measurements and the correct sizing system and fabric identification, fashion designers can save time and money.
However, there still seems to be some miscommunication between designers and manufacturers when it comes to interpreting these tech packs and errors still exist. If you use Techpacker you can streamline the communication process and never miss an important comment from your factory. At the same time, the solution is as simple as making tech packs more visual and detailed and ensuring your flat sketches are in top shape as well.
Article Source - https://techpacker.com/blog/design/t-shirt-tech-pack/